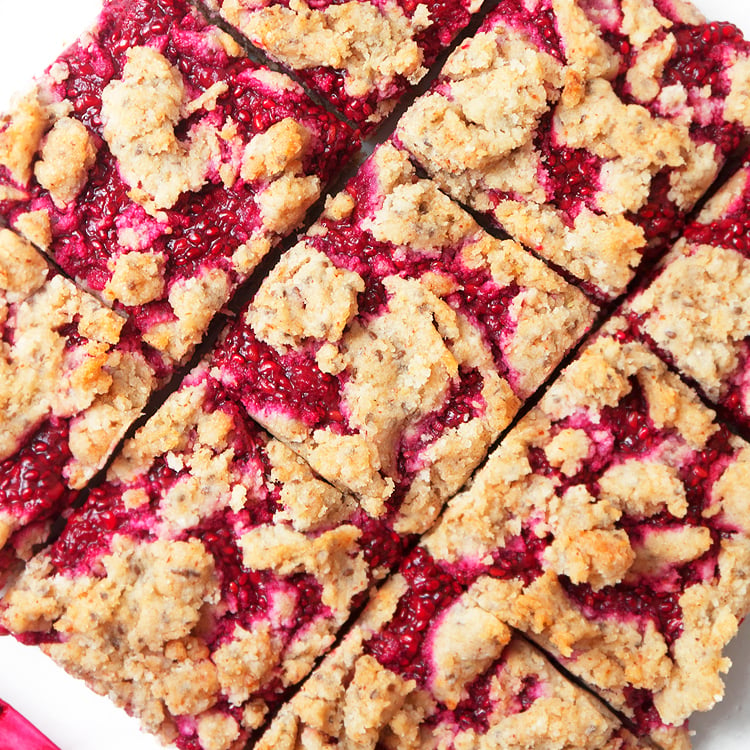 Today's post is actually 2 recipes in 1. There is first the recipe for the sugar free chia jam (which honestly tastes just like a real jam but way less sickly sweet). So you could just take that away from todays post and spread it on your toast or in-between a sponge cake or you could go the whole hog and bake these delicious 'chia jam-jacks'. I obviously did the latter and they were all gone by the end of the next day!
I have to say that I made this recipe up out of desperation for an alternative to the sickly sweet sugar laden jars of jam that line the shelves of the supermarkets. It was by chance that I had made a chia 'egg' for a cake because we were short of eggs, I had a lightbulb moment as I envisaged throwing some raspberries in the chia seeds and hopefully making a jelly like fruity spread.. not dissimilar to the texture of Jam… and Hey Ho… Raspberry Chia Jam was born! It tastes just like raspberry jam (in fact my super picky Dad didn't notice the difference) and it goes perfectly in the middle of a sponge cake or spread on toast…. OR sandwiched in-between delicious coconut sugar flapjacks!! I have to say that this is quite possibly theeee most delicious recipe I have created yet. As always it is gluten, dairy and refined sugar free without compromising on deliciousness.
The best thing about this jam is that there is virtually no sugar in it unlike regular jam which contains an obscene amount, is heavily processed and contains no fibre or protein. It is really important that we all try to cut down on our refined sugar consumption as we are all eating far too much of it and latest research deems it more dangerous than saturated fat. Excess sugar is actually stored as fat, it is highly acidic and inflammatory on the body, leading to a host of other problems. Sugar also feeds cancer so it's a good idea to find alternatives to popular sugar containing items (such as jam, cakes, fizzy drinks, biscuits etc).
This wonderful little concoction however, is loaded with protein, fibre and healthy fats from the chia seeds which also are high in omega 3s (omega-3s are amazing as they are anti-inflammatory). Then there are the raspberries which are a natural source of sweetness and very high in antioxidants. I use a teaspoon or two of a natural sweetener such as raw honey or some coconut blossom syrup to add a little more sweetness, you can adjust this to your own taste. Once you've got this base you can use it in anything or on anything in place of regular jam. In this instance we are sandwiching it between delicious layers of flapjack. And boy what a combination it is.
Perfectly balanced with slow releasing carbs from the oats, healthy fats from the coconut oil (that are great to support your hormones, skin and brain), natural sweetener packed with minerals from the coconut sugar and all of the protein and fibre that chia and pumpkin seeds provide. A great afternoon pick me up snack which tastes like pure heaven but actually is still really good for you.
So without further ado…
Ingredients 
Chia Jam
30z frozen raspberries
6 tablespoons boiling water
1oz chia seeds
2 teaspoons raw honey
Pour boiling water over the raspberries and mash them down until they are mushy, stir in the honey and the chia seeds and leave to stand for 15 minutes until the chia seeds have absorbed the moisture and formed a jelly consistency. That's literally it for the Jam part.
Raspberry Chia Jam-Jacks
6oz coconut oil
4oz coconut sugar
3 tablespoons of coconut blossom syrup or other natural syrup such as brown rice syrup
12oz gluten free oats
2 tablespoons of pumpkin seeds
Line a 9inch square tin with baking paper and pre-heat the oven to 180 degrees (fan assisted oven).
In a pan heat the coconut oil, coconut sugar and syrup until everything is liquid. Then stir in the oats and the pumpkin seeds.
Spread half of the mixture in to the tin followed by the chia jam, followed by the last half of the oat mixture. Sprinkle with pumpkin seeds and bake in the oven for 25-30 minutes or until the top is nicely browned.
Leave to cool in the tin and then slice in to squares and enjoy!
You won't be able to leave this little jammy bites alone if you're anything like me, they are so so delicious!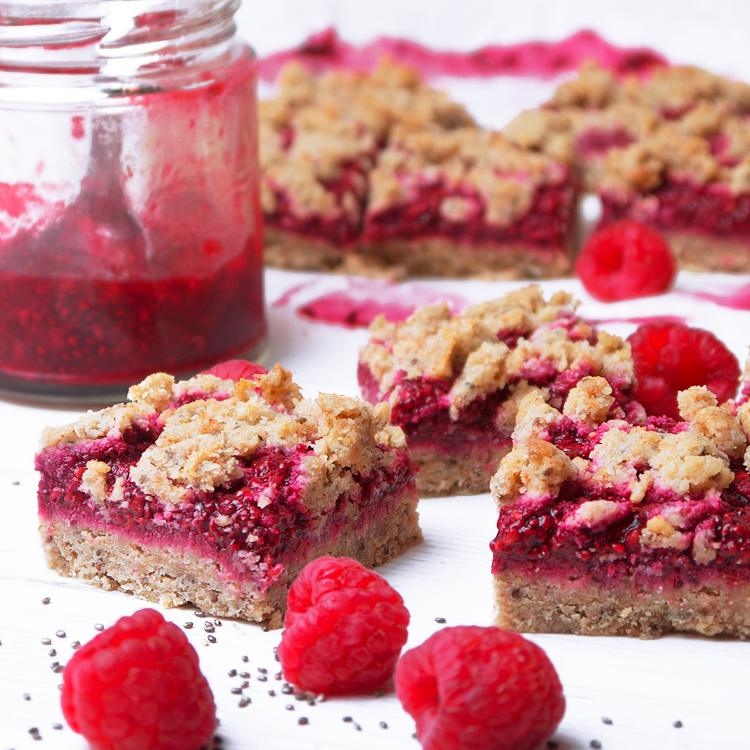 Wishing you a healthy and inspiring week ahead
xxx